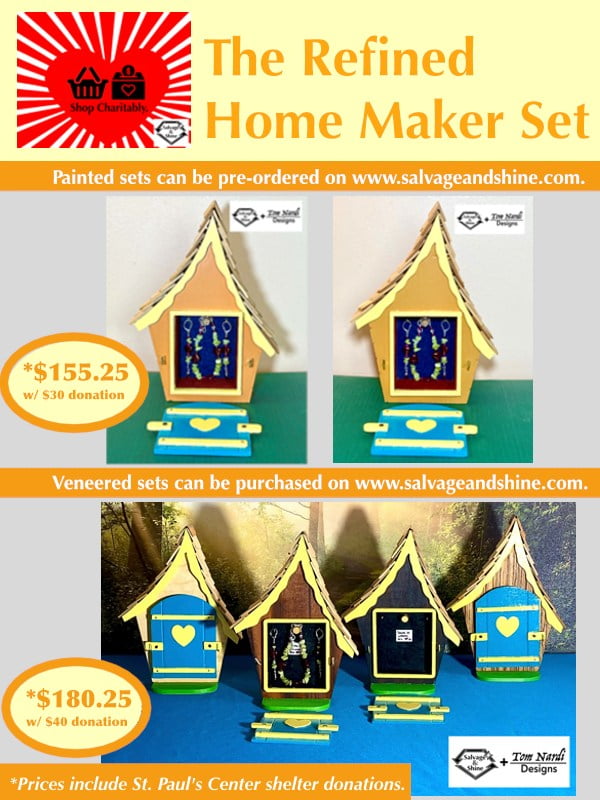 For Immediate Release
Media Contacts:  Alessandra Payne / Dinah Russell-Rose
[email protected] / [email protected] 
Local Entrepreneurs Form Partnership to Sell Fundraiser Products for the Benefit of  Saint Paul's Center Shelter in Rensselaer, NY
(January 4, 2023, Albany, NY) Three local entrepreneurs, Salvage & Shine, Tom Nardi Designs, and Ma Belle Voices, have collaborated to sell wearable art and promote their Charitable Products fundraiser collection. Salvage & Shine and Tom Nardi Designs teamed up to create the Refined Home Makers set, a wearable art jewelry boxed set that is inspired by Saint Paul's Center, a women's shelter in Rensselaer, NY.  These businesses have partnered with Ma Belle Rose Voices to promote Saint Paul's Center and the Salvage & Shine's Refined Home Maker Set. These fundraiser products were created to replace Saint Paul's Center's 2022 winter wreath fundraiser and are available for sale and pre-order purchase exclusively on Salvage & Shine's website beginning September 2022 and ending May 2023.
The name "Refined Home Maker" is a double entendre transforming the term "homemaker" from one to describe an unemployed housewife to one that celebrates a woman's ability to create a loving and stable home environment.  Also inspired by the quote, "Home is where the heart is," this custom set features a bracelet and a pair of earrings made from sterling silver metal and beads made from serpentine, quartz, jade, and garnets that is designed to look like wreaths and garland used to decorate traditional homes. The set also includes a custom jewelry box, handmade by Tom Nardi, that is shaped like a home.
Salvage & Shine's Charitable Products collection features a line of wearable art jewelry products that are inspired by nonprofit organizations that are devoted to empowering underserved and marginalized communities.  When customers purchase pieces in this collection, portions of the proceeds are donated to the non-profit that inspired it.
"This collection is designed to show my appreciation for non-profits that help make our community better and build bridges to empower women and their families," said Alessandra Payne, owner of Salvage & Shine.  "I wanted to create this fundraiser product where people could support fine art and combat a societal issue in one purchase.  I wanted to help St. Paul's Center decrease homelessness in the Capital Region,"
"It has been an honor partnering with Salvage & Shine and St. Paul's Center in their efforts to serve the community," said Dinah Russell-Rose, owner of Ma Belle Rose Voices and the official spokesperson for the St. Paul's Center fundraiser ad campaigns. "Providing social services and affordable housing has been the driving force of this fundraiser, and I'm excited to be a part of this mission.
For more information about Salvage & Shine's St. Paul's Center fundraiser, please visit these links:
https://salvageandshine.com/blogs/dropping-gems-pearls-of-wisdom/st-paul-s-center-raffle-items-the-home-maker-set-earrings-and-bracelet
https://salvageandshine.com/products/the-refined-home-maker-set
https://salvageandshine.com/products/the-home-maker-set-refined-holiday-fundraiser-edition
About Salvage & Shine  
Salvage & Shine is an online wearable art boutique that was established in December 2021.  This boutique sells handmade wearable art jewelry from salvaged, recycled, renewable, and ethically sourced materials from all over the world.  Each Salvage & Shine piece has a moral design concept and mixes artistic themes, cultures, and styles to show how ingenuity and innovation can be elevated when there is creativity, open dialogue, and collaboration.  Salvage & Shine pieces are meant to inspire, stimulate creativity and thought, and to make a statement.  
About Tom Nardi Designs
Tom Nardi, owner of Tom Nardi Designs, is a Renaissance man and woodworker who has been creating custom home décor for over 30 years.  He currently creates from his shop in Germantown, NY.  For more information about Tom Nardi and his designs, please email him at [email protected].
About Ma Belle Rose Voices
Ma Belle Rose Voices is a voice-over business that was established in September 2022. Dinah Russell-Rose, owner, offers a wide range of voice-over services to meet your creative marketing needs. For more information, visit www.vfademos.com/DRose.