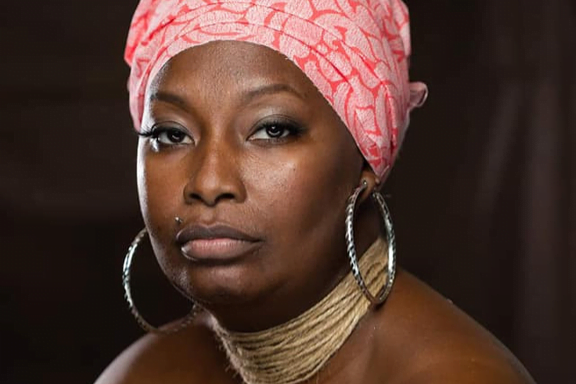 Stories of Survival: Shana's Story
My name is Shana W. Gourdine and I am a three year survivor of domestic violence and abuse. This story begins in August of 2011, when my children's father first put his hands on me. At the time, I was six months pregnant with my second daughter and terrified for my own life as well as that of my unborn child. Seemingly out of nowhere I was thrown against the kitchen cabinets and beaten. As he fought to close his hands around my throat, I fought back desperate to stop this madness before he could hurt my children. Finally, I broke free and forced my abuser to leave.
Once he was gone, I was left alone trying to process what had just happened. In my state of shock,  I struggled to wrap my mind around the fact that the man who told me he loved me every day and helped create our beautiful children, could ever put his hands on me.
For months I worked to rebuild my life and care for my children as a newly single mother. I wish that my story ended here, but like many women in my situation it wasn't that simple.
On average, women attempt to leave abusive relationships seven times before they are able to successfully leave and stay away for good.¹
Foolishly in love, and victim to my abuser's relentless manipulation, I allowed him back into my home. After all, I was trying to make my family work, he was the father of my children, and I was not prepared to raise my family on my own.
On November 4, 2011 my princess was born. In a time that should have been filled with the excitement and joy surrounding a new baby, I was instead filled with confusion and the fear that my partner's abuse wouldn't stop. Unfortunately, I was right, and it didn't take long for the monster to rear his ugly head again.
In May, I found myself trying to defend myself from my partner's violent attacks with one arm, while holding my four month old baby in the other. At the time, I wasn't concerned with my own protection, my only worry was being able to save my daughter. I couldn't let her hit the floor, couldn't let his wild hands stray from my own body to hit hers.
This the time the abuse didn't let up until I had been beaten so badly that I passed out. When I came to, I knew he had to go. Even though I was terrified of what he would do if I kicked him out again, I had to protect my children. They deserved to grow up without experiencing the trauma and fear that had become normal in our family.
In 2016, I found myself in another relationship thinking that what I had experienced in my previous relationship would never happen again.  I was wrong. This time my abuser was another woman, struggling to deal with her own mental health issues including paranoid delusions and symptoms of schizophrenia.
43.8% of women in same-sex relationships experience rape, physical violence, or stalking at the hands of their partner.²
I found myself terrified and paranoid in my own home, not knowing what person I would wake up to. I recall being dragged up by my hair and having to defend myself after just having surgery. Somehow my life had dissolved into chaos yet again. More than once I was woken up to my partner physically abusing me in my sleep. I was beaten with my own property, sometimes until the things I had worked hard for were so damaged they could no longer be used. I was verbally abused and emotionally manipulated to stop me from leaving.
But, I am strong, and I am resilient. I would not give up and accept my circumstances.
Although the abuse had become my normal, it is not normal. No one should ever be forced to experience what I have gone through at the hands of the people they love.
I sought help from Unity House, who provided my family with secure, confidential shelter as I worked to put my life back together. They provided me with the counseling and support I so desperately needed to take my power back. Now, I am a survivor, using my voice to share my story across communities to help women going through similar situations heal and gather the strength to say enough is enough.
If you'd like to learn more about Shana's story, you can purchase her book of poems, The Mask Behind the Mask here.
To get help for you or someone you care about who is affected by domestic violence, call the National Domestic Violence Hotline at 1-800-799-7233 or contact Unity House's 24-Hour Domestic Violence Hotline for local support and assistance at 518-272-2370.
Thank you to everyone who adopted a family this holiday season! Our staff and families were blown away by all of the presents! A special thank you to the amazing volunteers who came in and threw a holiday party for all the mothers and children in our programs. This...
read more